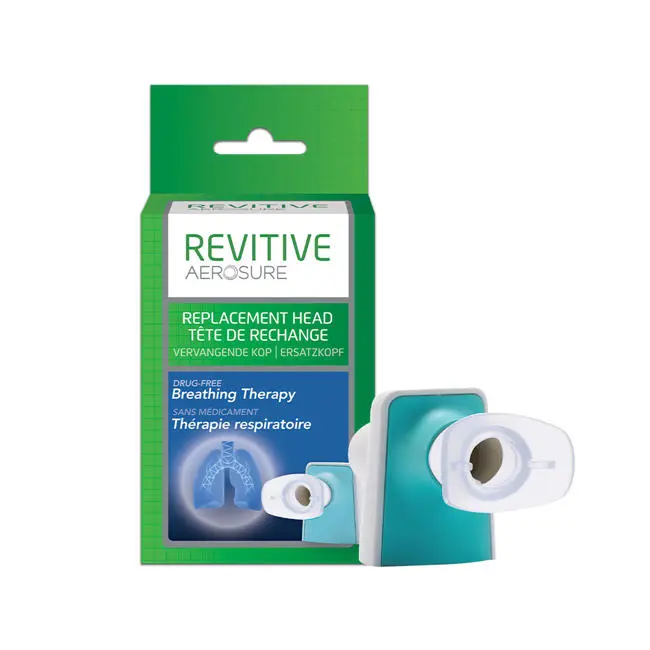 Replacement Medic Head for your Aerosure. We advise that you replace the Aerosure Medic Head at least once every 6 months, for good hygiene.
Drug-Free
Aerosure Medic is a drug-free respiratory device designed to improve the strength of breathing muscles. Aerosure Medic does not replace the need for medication. Aerosure has been scientifically tested in the UK, in both healthy people and in patients with COPD.
I suffer from COPD and would try anything to improve my breathing. I read up on this product and thought I would give it a try. I find with 5 minutes use morning and evening I am now able to breathe more deeply. I use it before using my inhalers and feel that I am able to breathe in more of the contents.
Teri
Revitive Aerosure is a Class I medical device that is registered for people with COPD.
For more information on who can use Aerosure, find out more here.
Revitive Aerosure should not be used by people who:
Are pregnant
Have epilepsy
Have acute sinusitis or an active nosebleed
Are coughing up blood (active haemoptysis)
Currently have or previously had a collapsed lung (Pneumothorax)
Currently have a blood clot in the blood vessels in the lungs (Pulmonary Embolism)
Have enlarged veins in the walls of the oesophagus (oesophageal varices)
Have abnormally high pressure in the skull and brain (raised intracranial pressure)
Have recently had thoracic (chest) or upper gastro-intestinal tract (duodenum, stomach, oesophagus) surgery or trauma until completely healed
Have abnormally high or low blood pressure, very slow or very fast heart rate (haemodynamic instability), including severe right-sided heart failure with hypotension
If you are at end-stage of a respiratory disease (incl. COPD and Cystic Fibrosis), or have a neurological disorder, or are unsure of the suitability of Aerosure for you or are unsure about the cause of your symptoms, consult with your doctor before using the device.
You need to breathe in and out through your mouth to receive the benefits of using the device.
Aerosure is electrically driven, although some additional effort is required.
Revitive Aerosure is a registered medical device it means if you have been diagnosed with a long-term illness or disability like COPD or bronchiectasis you qualify for VAT exemption. Find out more about VAT relief here.
Standard delivery (3-5 working days) - £7.99
Customer collections - £7.99
* Free standard P&P worth £7.99 in England, Scotland & Wales on all orders over £50. Excluding remote locations which will be charged £27.98 for standard delivery. A list of postcodes that fall within remote locations can be found on our delivery page. Next day and express deliveries to remote locations will cost more, please ask our customer service team for a quote. These web pages are intended for UK/ EU residents only. †Inspiratory Muscle Training (IMT) is a technique used to correct or increase performance of the muscles involved in inhalation. Positive Expiratory Pressure (PEP) devices help inhaled air get behind the mucus in the lungs and helps keep the airways open.
Free Delivery
Free Standard delivery on all orders over £50
VAT Relief
If you suffer from a long-term health condition you may be able to claim back VAT. Not available on 4-easy instalment orders
Customer Support
Get help and support from our UK based customer service team
2 Year Warranty
All products are backed by our 2-year warranty
We would love to keep in touch
Sign up for our emails and we'll keep you updated with our regular offers.